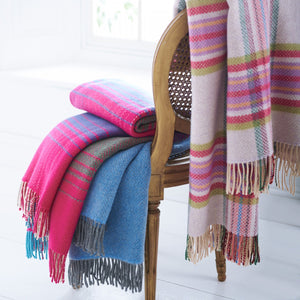 Experience the pinnicle of true craftsmanship
Our Story
The Woollen Market is an artisan family business built on premium woollen products made by expert Irish craftspeople using traditional weaving methods passed on through many generations. We are committed to supporting local Irish talent but we have a global ambition. We are an internationally renowned luxury brand and our reputation grows daily with each order shipped around the world from our base in Ireland. Our beautiful woollen throws add a touch of artisan class in high-end boutique hotels, guesthouses and stylish homes worldwide and we've also proudly noted celebrities, artists and models wearing our luxury scarves and capes .
Preserving Traditions
We value dedicated craftwork by designing and producing beautiful bespoke pieces through traditional weaving methods
Small Batch Production
We work with smaller woollen mills who share our commitment to curating and preserving artisanal crafts in Ireland by making small batch quantities
Natural & Sustainable
Conscious of our environmental footprint we use only 100% sustainable and natural materials sourced from suppliers with good animal practices.